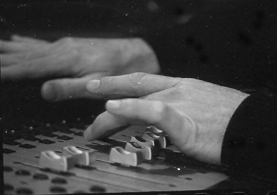 With over 25 years of experience in the music industry, we offer all of the essential recording services such as voice-over work; sound and music for radio commercials and video; basic on-location recording projects; as well as complete in-house music production for singer-songwriters.

Also known as Ferryhill Recording Studio, we are a Protools-based facility, the industry standard.
For singer-songwriter musicians we can manage the concept of a song demo from pre-production right through the recording process (optionally using world-renowned session musicians) to a professionally mastered product that is ready for radio airplay and international distribution.
Our rates (all pricing is quoted exclusive of GST) reflect the different services that we offer.
The hourly commercial rate for our studio is NZ$100 and our on-site recording service is charged out at NZ$125/hour. For artists requiring single song (or complete album) music production: our production company Peerless Records offers a negotiated fixed package rate (starting at NZ$950 per song) covering the cost of the entire process from pre-production, right through to a completed and professionally mastered product.

Because each music recording or production project varies in complexity and time required to complete, pricing for each project is negotiated on an individual basis.
Please feel free to call or email to make an appointment to discuss how we can help you with your next audio project.